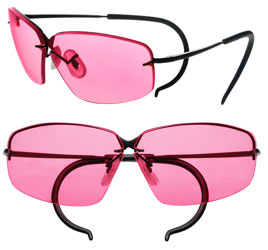 These glasses are made for all non-contact sports requiring accurate sports vision, including all outdoor shooting sports or hunting, golf, fishing, and general everyday wear, and have been the industry's leader since 1949.
Decot shooting glasses come in two frame styles, one with an adjustable bridge option. Each style comes in two sizes. Lenses are available in various standard colors that almost everyone finds useful and can be 'Plano' (non-prescription) or prescription, including bifocals. Special-made, custom colors are also available. Any lens color can be polarized if you wish.
Their unique frame is constructed of high-quality spring metal, which is covered by a lifetime warranty and is set behind the interchangeable lenses to help eliminate smudging and fogging of lenses around the forehead and nasal area. All frames have spring-hinge temples for on/off ease and general comfort.
The interchangeable lenses mean that with one set of frames, you can have bright sunny day glasses, cloudy day glasses, indoor glasses, or anything in-between with a quick lens change. And if you scratch or break a lens - it's replaceable. All lenses provide complete UVA and UVB protection and are hard-coated to minimize scratching.
In addition to the Decot inventory, Susie also carries stick-on bifocals, which come in several strengths and will easily convert almost any lens to bifocals for a minimal price.